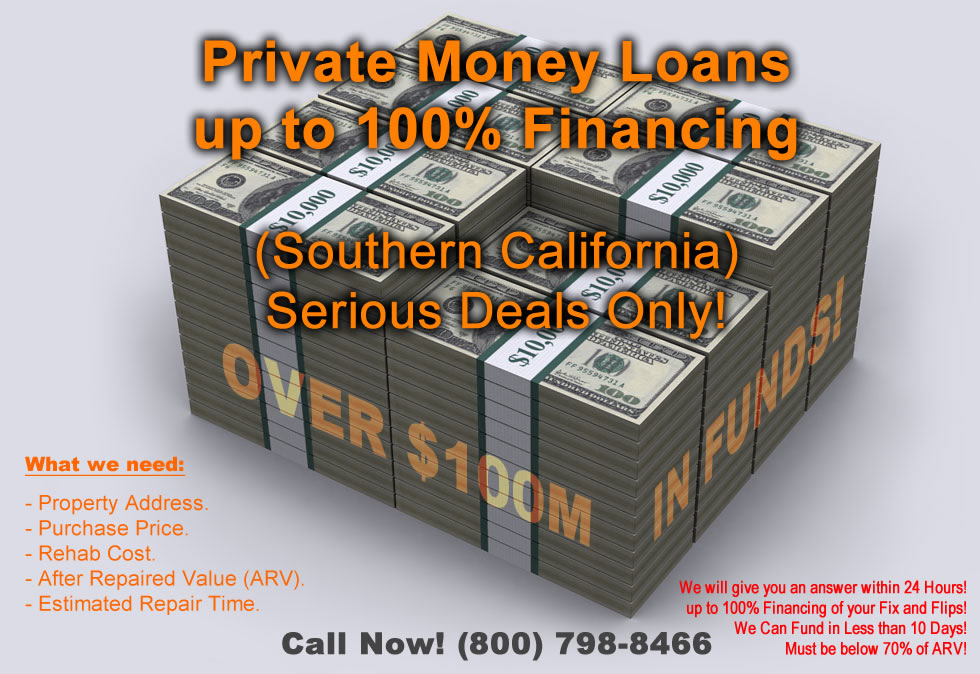 Attention all Fix and Flippers! We can fund all your Rehab Deals up to $3M, per deal!
SOUTHERN CALIFORNIA ONLY!
70% of the future value or  up to 100% financing.
Free pre-qualification!

---
Information for Borrowers
We are affiliated with a DIRECT LENDER to the California market with well over $100 Million in Private Funds for fix and flip loans, rental property loans, commercial property loans, hard money loans,  new construction loans, and cash out for any type of property.
Our Process is very Easy!
You call and we give you:
Immediate Quote
Pre-approval
Preliminary Figures
Copy of purchase contract
Estimate of repairs
Your opinion of property value
Our short form Stated Income Loan Application, with no financials or verification required!
3rd Step
Within 24 hours:
Final approval
Review of final numbers
Ready to sign loan documents
Ready to fund within 2-5 working days
24 hour rush funding available
---
For more information, please Call: (800) 798-8466